Name:
Thalia Kiru Orannis
Age:
28 years old
Gender:
Pure Female
Home Planet
: Earth

Description: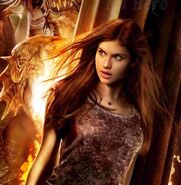 Biography


Childhood/Teenage Arc:
"You are so beautiful. And one day will receive the heritage of the Orannis family, my dear. I wish I could see you when you grow up. Always remember: stand up for what you believe in and do not allow evil oppressors to trick you. Never be a push-over."

- Isabel Orannis, Grandmother to Thalia


Thalia "Kiru" Orannis was merely 3 1/2 years old when her Grandmother on her father's side died. Her grandmother was a noble woman of integrity and justice and during her youth years, served as a Court Justice and United Nations Peace Keeper until the uprising of the Terran Alliance, which was against the very thing Isabel Orannis stood for. Thalia's grandmother, Isabel, was an old lady from a very wealthy,
French family
which was and is the Orannis family. Thalia's mother Sarah Orannis, was a beautiful, gentle, and wise woman who cared for Thalia so much. Thalia's father, George Orannis, on the other hand was a man involved with numerous black market crimes and dirty politics. Of course, these crimes were always covered due to the "oh amazing" government. They lived in a gorgeous, luxurious estate in
California
and were quite cared for by the neighborhood. The only reason Sarah stayed with George was because she needed the money while she fulfilled her research and development at a Government Lab in Los Angeles on certain new, technological weapons. To every new project they made, she wrote a blueprint and how it works and locked it up in a golden chest which one day would be brought to China.
When George Orannis heard of his mother's will (Thalia's grandmother), he became furious.
All her possessions went to Thalia Orannis, including the treasury and everything to care for her when she grew up.
Right away George devised his own plans. Ones not so good-willed. He
divorced
Sarah Orannis and
charged
her with
child abuse
to dear Thalia. Even though it was not true, he had good relations with the local authorities so Sarah already knew she would be in trouble. One night, Sarah quickly clothed Thalia (now 4 years old) and shipped her to
Hong Kong, China
to forevermore live with her mother's best friends and Thalia's godparents,
Jing Yi and Benjamin Chung Kiru.
Thalia thought of Jing Yi and Benjamin Chung Kiru as her Mother and Father for a long period until one day when Thalia was a teenager, they told her they were really her godparents and her mother didn't want Thalia to get into the wrong hands, which was her father, an evil politician. She bawled for many weeks until her Godparents also told her of the will her now-dead grandmother left her. She used the money towards her schooling at Tai Kan Academy.
Early Adulthood Arc:
It was only when Thalia was 18 years old she discovered her mother had been shot by an unknown, masked figure in her apartment one evening. But, there was a Media leak which said it was a Government Agent. So one questioned haunted her all the years: Why Would A Government Agent Kill Her Mother? Until she remembered Jing Yi told her that her mother was a Governmental Scientist who also participated in the creation of weapons and planets that could be adapted to sustain human life. She could have been shot for trying to expose something to the Press that was meant to be a secret from the people. Thalia swore to get her revenge, but instead of establishing a Rebellion, she would work undercover in the Terran Alliance governmental structure and one day destroy the Alliance. But all this was kept a secret to her, as well as a
Promise.
Thalia, using the money handed down to her from her grandmother, attended
Oxford University
in London, United Kingdom receiving a Masters degree in Political Science and also attended
Cambridge Military Academy
where she became a Weapons Specialist and even managed to achieve the rank of Captain during her time in the military. At age 27, she quit the military and pursued politics to achieve her life-time plan.
Affiliation:
Terran Alliance
Specialty:
Mixed Martial Arts Master, Weapons Specialist, Tactical Combat, Political Science
Last edited by Thalia on Tue Jul 26, 2011 11:24 pm; edited 1 time in total



Posts

: 3


Join date

: 2011-07-24

Identification Pad
Status: Civilian
Speciality: None
Popularity:


(0/10)



With 21 Billion people on one planet... I would imagine Japan, is like China.

there also no Assurance that Tai-Chi, is still around.

Also did you even look at the galaxy page, Venus was mined of all it's Resources.



Posts

: 38


Join date

: 2011-07-21


Age

: 24


Location

: Newcastle, UK

Identification Pad
Status: Civilian
Speciality: None
Popularity:


(0/10)



You do realise the Terran Alliance is evil.....so how can you not use your power for evil, if your using it to help the alliance....
Admin




Posts

: 76


Join date

: 2011-07-19

Identification Pad
Status: Canidate
Speciality: Military, Government
Popularity:


(0/10)



K, thanks for the comments

I'll edit it according to that. And not really...it would be evil in your point of view, but good in mine, perhaps. Just like the Jedi and the Sith. The Sith are evil to the Republic, yet all they want is "peace", through aggression which is good in their eyes.



Posts

: 3


Join date

: 2011-07-24

Identification Pad
Status: Civilian
Speciality: None
Popularity:


(0/10)



No, they are evil, and its obviouse, you dont massicer millions of innocent lives and not be evil. And dont reference this site to starwars logic please, because its just wrong, your more corrupted than anything else.

If anything its more like startrek when the romulan admiral said

"What you called the Norkan massacres were called the Norkan Campaigns on my planet" said by admiral jerok.
Admin




Posts

: 76


Join date

: 2011-07-19

Identification Pad
Status: Canidate
Speciality: Military, Government
Popularity:


(0/10)






Posts

: 3


Join date

: 2011-07-24

Identification Pad
Status: Civilian
Speciality: None
Popularity:


(0/10)



---
Permissions in this forum:
You
cannot
reply to topics in this forum